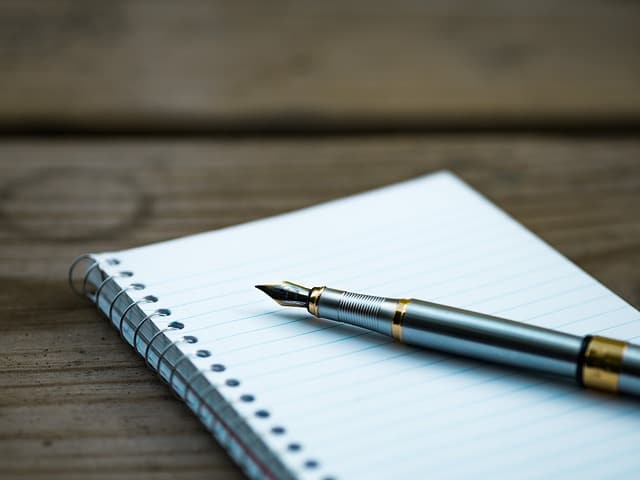 We all have a different definition of perfection. When it comes to the best pens, you may have your own view. Nonetheless, there are pens that stand out from the rest. In this article, I listed the best ballpoint pens in the world from the users' perspective. If you're a meticulous person or someone who is looking for a perfect pen, then this post is for you.
I have written about the best pens before, but this time I classified the pens by their nib sizes and uses. All pen brands come in different nib sizes but not all those pens may be appropriate for your writing needs. It is my hope that this post will help you find the pens that you need.
The following are the best ballpoint pens in the world for writing, doodling, and bullet journaling.
Best supreme 0.2mm pens
If you are looking for a pen that fits your bullet journal needs, the Staedtler Pigment Liner. This pen works for everyone's writing strategies including the lefties. The ink dries instantly as you write it without a smear in your hand.
This pen comes in different tip sizes. It is smooth and easy to maneuver in any writing space. It has smooth and easy to grip barrel. With multiple nib size choices, it allows the users to choose according to their personal preference.
Most users describe this pen as superior. The fineness of the tip does not hinder its durability and strength. It makes it easier to control any type of paper.
Best 0.5mm pens
When it comes to smoothness, this pen has it. It never skips even in a long writing session. With a rubber grip and metal tip, this pen is incredibly comfortable to hold. However, some users found that in some instances, this pen could smear a bit when used by a heavy hand. This may cause problems, especially for lefties.
But the majority of the users have a memorable experience with this pen. And that includes me. To me, the Pilot Precise Retractable Rolling Pen did not bleed or smear. All I can remember is the smooth and fine line of my writing. The black one was my most favorite.
My experience may be similar to those who used this pen for many years. In fact, the majority of the reviews on Amazon suggest that this pen doesn't skip. The ink dries quickly making it perfect for left-handed individuals.
Best 0.7mm pens
If you are working in a job that requires a longhand writing or indicating your signature on an important document, you definitely need a pen that is fine and does not skip. The pen that will perfectly work in your situation is the Pilot Easy Touch Retractable Pen.
The 0.7mm size gives you super fine and neat handwriting. The fineness gives you the assurance of your writing. No need to worry because it will not screw up along the way. With that peace in mind, you will be able to focus on the ideas you want to write not on the pen's writing performance.
This pen offers both comfort and total control on the users' side. The appearance is a plus to its quality. Whatever your job is, or wherever you work, this pen will astonish your colleagues and co-worker.
Best 1.0mm Ballpoint Pens
The Jetstream Ballpoint Pens are known for their effectiveness on the glossy paper surfaces. Unlike other pens, The Uni-Ball Jetstream Ballpoint Pens work on many surfaces making these pens the best of this category. Having said that, you can write on glossy receipt and printer papers using this pen.
This pen suits everyone's needs regardless of whether you're a right or left-handed person. The ink instantly dries leaving your paper with clean and clear marks.
The ink is made of special solvent that allows the pen to glide on the paper with minimal pressure applied to it. It perfectly suits with any hand. They say that size matters. For some, smaller pens are challenging to hold and control. This pen, on the other hand, is designed to fit in different hand sizes.
This pen is safe to carry either in the pocket or in your bag. Instead of a push-button, the Uni-Ball comes with a cap making it safe from leaking or stabbing you.
Best Bullet-Journal Pens
If you are looking for a pen that could work in different writing demands, the Sakura Pigma Micron Blister Card is what you need. These pens are known for their smooth, skip-free, and crisp ink colors. They come in different nib sizes for you to choose the size you need. Most importantly, these pens never smear or bleed on most paper surfaces. The ink is stable and waterproof. This is the reason why most artists fall in love with these pens.
Because these pens do not smudge, they work perfectly for lefties. The ink is sufficient and thus lasts longer than you expect.
Most users would recommend these pens for bullet journaling. Regardless of your age, these pens provide what you need. You can choose the different sizes that fit into the paper spaces you are working on.
Having total control over the pen, you can easily draw figures including charts, tables, or sketches. It is incredibly easy to use in any writing environment.
Another category of the best ballpoint pens in the world is the Stabilo Point 88 Fineliner Pens. The hexagonal shape of these pens makes it incredibly comfortable to hold. The metal-enclosed tip makes the pens strong and durable. These characteristics give the user total control and precision.
The features of these pens are perfect for writing, drawing, and calligraphy. With the range of color choices, you will have tremendous freedom to decide over your work.
With hundreds of reviews online, only a few shared their negative experiences with these pens. The majority enjoyed the performance and the number of color choices. If you are a person who loves colorful writing, these pens can be your best choice.
Best Pens for Lefties
If you are a left-handed person, your biggest challenge is finding the perfect pens for your writing. This is because, unlike the right-handed people, your hand follows the pen as you write. That creates smudges if you are using a pen that does not dry instantly.
Fortunately, your problem has already been solved. The Uni-ball Jetstream Ball Point Pens are created just for you. This pen comes in medium point 0.7mm nib size and a rubber grip that both provide comfort and smooth lines.
With the fast-drying ink, this pen is not only for lefties but also for all types of users and for all types of writing style. This pen assures better writing performance, durability, and comfort.
When talking about a fast-drying ink, I cannot discount the Zebra Pen Sarasa Retractable Gel Pens. These pens have arguably the fastest drying ink that works on almost paper surfaces. With the 0.7 medium points black gel ink, your work is safe from smears and smudges.
The combination of soft rubberized grip and solid casing construction makes these pens reliable and durable. The features assure comfort on the part of the users.
For the left-handed writers, the Zebra Retractable Gel Pens can be their best writing companion. With the fastest drying ink, it never creates unnecessary marks other than what the users have intended.
But that's not all, the Zebra Pens' ink is made of a special solution that makes it reliable even after being caught in the rain. In other words, it is water-resistant.
This pen brand comes in 3 different nib sizes: 0.5mm, 0.7mm, and 1mm. The user has several size options depending on the project she/he is working on. Above all, these pens are cheaper than other brands of this quality.
Best Calligraphy Pens
The Tombow Fudenosuke Brush Pen can be your best ballpoint pens in the world when it comes to calligraphy. Yes, these pens have special features like different tip shapes that could effectively be used for different lettering styles. They come in three 3 large brushers and three small ones perfect for large and small calligraphy arts.
If you love hard tips, you can surely have them. As mentioned, these pens come in different features for different purposes. What is common among these pens is the smoothness, comfort, durability, and long-lasting quality.
With multiple choices, it is your duty to find out what works for you. Your decision can be affected by many factors such as your color and nib size preferences.
Best Felt-Tip Pens
If you are looking for a brand of pen that offers more color choices, the Paper Mate Flair Felt Tip Pens can be the best ballpoint pens in the world. They come in 16 different bright colors. You can choose the medium nib size (0.7mm) for the bold and expressive lines with accordance to your line preference.
These pens don't fade and smear making your work safe from any smudges. The ink is water-based. As a result, bleeding is not an issue. As a teacher, I love the vibrant and thick lines. This pen writes smoothly for regular writing or for hand lettering. Although I did not use the other colors other than black, they are worth trying.
Best Fountain Pens
The best ballpoint pens in the world are not always expensive. The Pilot Metropolitan Collection Fountain Pen is among of the pens that are incredibly affordable for its embedded quality and durability.
The Pilot Metropolitan is made of metal making it the most affordable and affordable writing tool. You might be thinking that this pen is heavy and difficult to control during a long writing session. But it's not.
Most users regard this pen as one of the smoothest pens available in the market today. However, some users don't like the grip section. It is a little slender for small hands. If you like slender though pens in your long handwriting though, you definitely would want to try this pen.
If you love fountain pens, then the Lamy Safari Fountain Pens can also be your best ballpoint pens in the world. The best feature of this pen is its durability against any form of corrosion. This means that you don't have to worry about carrying this pen in your pocket along with other stuff such as knife and coins.
The price may vary from 20-30 dollars depending on the features. But whatever nib size and color you choose, this pen has only one promise; quality. Most customers regard this pen as permanent because it lasts longer than you might expect.
Best Cheap Pens
Everybody wants a cheap commodity. In fact, we tend to buy cheap products than expensive ones. But sometimes, a lower price means poorer quality. This is not always the case though. In terms of finding quality pens, you can find high-quality pens in cheap price options.
One of the examples of this category is the BIC Round Xtra Life Ballpoint Pen. This pen has several features including the nib and color choices that fit your personal preferences. The price does not tell much about how good this pen performs on almost all paper surfaces. This is pen is simply the combination of affordability, quality, and durability.
Best Durable Pens
Aside from price, one of the things we consider before buying a pen is durability. Will it last long? If you are looking for a pen that fits this qualification, you can consider the Fisher Space Pen Bullet Chrome Finish.
This pen has been in the market for so long and never ceases to astonish users around the world. Online reviews about this pen are simply demonstrating how this pen delivers its promise. The coolest part of this pen is its ability to write in any writing environment. It can write in zero gravity, upside down, underwater, through a greasy space, and in both extremely cold and hot environments.
Best Soft-Grip Pens
The Dr. Grip Center of Gravity Retractable Pen is designed to achieve balance writing. It is equipped with a double-layered comfort grip and balanced gripping axis to reduce stress and provide a comfortable user experience. This is the reason why the Arthritis Foundation recommends this pen.
The pen comes with a special mechanism the New Turbo Charged Black ink that provides extra smooth writing performance on any surfaces. What you need is just to apply a little pressure and let the pen does the rest.
There are several color choices such as deep purple, maroon, blue-green, and black. If you are a student or a professional handling legal or important documents, the black ink can be your best choice. Black pens are commonly used in formal writing especially in school. But it is clearly up to you.
Best Multicolored Pens
If you love a colorful set of writing or art tools, then this brand of the pen is what you're looking for. The Paper Mate Inkjoy Gel Pens offers a variety of different vibrant colors. The color choices include Pink Pop, Orange Rise, LimeLight, luscious Green, Teal Zeal, Bright Blue Bliss, Slate Blue Spin, Pure Blue Joy, Wild Berry, and Jet Black Gel pens.
The 0.7mm nib size provides an exceptional writing experience. The ink just flows smoothly on the paper that allows you to focus on the idea you are trying to convey without interruption. The best part, the ink dries three times faster than other pens.
Not all writing job requires a black pen. Sometimes, you need to make a deliberate mark to emphasize or to make something easy to remember. In this case, what you need is not just a black pen but a writing tool that allows you to change ink color automatically. The best pen in this category is the BIC 4-Color Ballpoint Pen.
With BIC Ballpoint Pen, you can have four colors in one pen. That's right. With just one pen, you will be able to achieve your writing goal.
This pen comes in different color choices including blue, green, black, and red. These ink colors are ideal for organizing ideas, bullet journaling, doodling, etc. The 0.1mm nib size is perfect for school and office regular use.
Best Gel Pens
If you are a left-handed person who always worries about the smears, this pen can be your best ballpoint pens in the world. It gives you clean and smudge-free writing performance that keeps your work flawless. The ink just glides on the paper and dries faster than other ballpoint pens. This is the reason why most left-handed users have recommended this pen. The Muji Gel Ink Ballpoint Pen is just a perfect writing companion for lefties.
The ultimate pen for all writing demands can be the Pilot G2 Retractable Premium Gel Ink Roller Ball Pens. These pens are some of the best ballpoint pens in the world for how many years. Professionals and students have been using these pens for decades due to their reliability and durability in carrying out an important writing task.
This pen is equipped with smooth and fast-drying gliding ink. It flows consistently allowing your writing uninterrupted. Ink consistency is very important especially when you are writing a novel, poem, and essay. You don't want your idea to be curtailed by a smearing pen.
Pilot G2 works very well at school, office, or at home. It is an ultimate pen for general writing purposes.