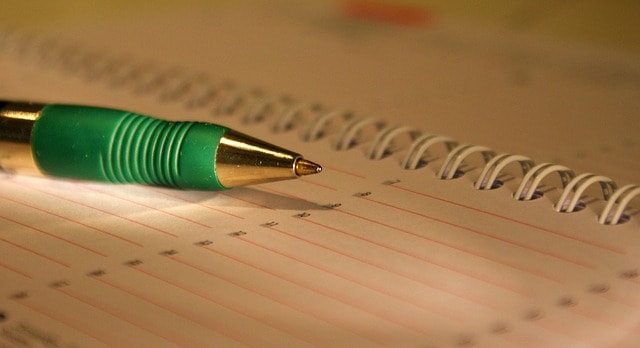 Different writing jobs require different writing tools. In other words, not all pens can deliver you the performance you need. This is because working conditions affect the performance of the ballpoint pens you use. It depends on gravitational forces and humidity of the surrounding.
Some pens, in fact, don't work when writing on a certain angle, wet paper, or environmental conditions. So, are there ballpoint pens that write upside down and do the job for you?
The answer is yes. In any condition, there are specialized pens that could do the job done. The ballpoint pens with the pressurized cartridge work well on many types of surfaces. They have a special mechanism that pushes the ink down keeping the pens working at any orientation. What you need to do is to apply a little force to create friction between the pen and the paper.
Related: Best Ball Pen For Cursive Writing
The most popular pens in this category are the Space Pen, Rite in the Rain, and the Tombow Airpress, Uni-Power Tank, and Pilot Down Force. Let's about these pens one by one.
Rite in the Rain
This pen is designed to write on wet and greasy surfaces. All cartridges are pressurized making the pen works even in extreme heat conditions or underwater.
If you are a fireman, police officer, first aid responder, or someone whose work is in the field, you probably need the Rite in the Rain.
This pen owns the reputation of being smooth and easy to grip. You can write using this pen without taking off your work glove.
Click here to see the owner's reviews on Amazon.
Tombow AirPress Ballpoint Pen
The Tombow AirPress is one of the most durable and reliable pens that could work in tough conditions. This pen writes on wet paper or at any angle (upside down). If the nature of your job (always on the move) makes it difficult for you to write, the Tombow AirPress is perfect for you.
At first glance, this pen looks heavy and uncomfortable to use, but the opposite is actually true. The rubberized casing makes it easy to hold when writing.
The performance of this pen may be a bit different from other Jetstream ballpoint pens. This is because the Tombow AirPress ballpoint pen is designed to carry out a tough writing job in a tough environmental condition.
Click here to see the owner's reviews on Amazon.
Space Pen
If you want the ballpoint pens that write upside down, then the Fisher Space Pen is what you need. This is not an ordinary pen you usually see in school or in your office. This pen is designed to function in zero gravity, wet and greasy surfaces, wet paper, extreme temperature, underwater, or in outer space.
The Fisher Space Pen, as its name implies was made to work in outer space. The space mission in 1960's both the American and the Russian astronauts used this pen in space explorations. Its pressurized ink cartridges allow the ink to flow making your writing uninterrupted even in zero gravity space.
The Fisher Space Pen is not only perfect for space work, but also in normal conditions such as in school, office works, etc. it clearly works anywhere and everywhere.
Click here to see the owner's reviews on Amazon.
Uni Power Tank
Like other pens mentioned above, this pen has pressurized cartridges. But what makes the Uni Power Tank stands out from the rest is its cool features. First, this pen is affordable. This means that anyone can buy and use this pen.
Secondly, it is incredibly comfortable to hold and write. What most people love about this pen is its writing performance. It is easy to grip and write even in long hours of writing.
The Uni-Power Tank comes in different nib sizes. The size that I love the most about this pen is the .7 mm. But I found it broad when writing on narrow spaces. This is not a major concern, however. You can always pick the smaller nib size, the .5 mm. You can also pick one out of the five color choices.
Click here to see the owner's reviews on Amazon.
Pilot Down Force
Not all pen works in all conditions. Take the space pen, for example, although it is super reliable, many people find it not so good companion in normal writing jobs. It does a really good job in extreme conditions, but in school or in the office, you might not need this pen.
What I found perfect for my office and paper works is the Pilot Down Force. This pen is also powered by a pressurized cartridge. But has the ability to produce great writing experience and performance. I bought three of them that I always carry with me all the time.
The casing portraits elegance. It looks like a metal but it's not. It is light and easy to use in writing.
What makes this pen special is its cartridge. The ink does not skip (based on my experience though I heard that it does sometimes). It is a smooth writer that really stands out from other ballpoint pens. This is one of the ballpoint pens that write upside down.
Because it works smoothly on paper, this pen is perfect for note writing. If you are a writer who constantly develops a story wherever and whenever you can, a smooth pen like this is what you need.
Click here to see the owner's reviews on Amazon.
To sum up, finding the ballpoint pens that write upside-down may take time. Although online reviews such as these give you an initial glimpse of the ballpoint pens, no one really knows what fits you.
Related: The Best Pen For Moleskine Journal
My suggestion is that take one of these pens and try it yourself. You can only say whether or not the pen can do the job you want after testing it. It is really a trial and error process. If you want, you can order your ballpoint pens from this list. You will be brought to Amazon to make your purchase more comfortable than personally going to office supplies.
There you go. You have my list of ballpoint pens that write upside down. I hope that this will help you in making the right decision. If you need further information about pens, just stay around and read more.