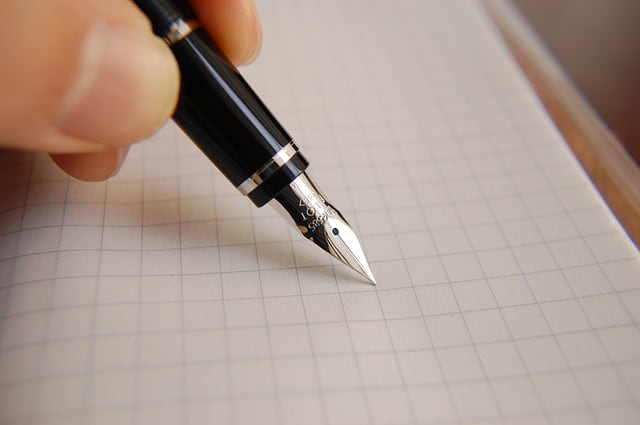 What is the best ballpoint pens for lefties? Writing this article makes me think about how left-handers write on paper. Is there any difference in terms of writing style between left and right-handers?
I am not a left-handed person but I have students who are left-handed. During my classes, I observe how they write and face the challenge. And one day, I tried it myself to write using my left hand.
What I found was that the experience was totally different. Not because I wasn't accustomed to it but because the process is the opposite. If you are using your left hand in writing, your hand follows the pen as it glides through to the right side of the paper. If the link does not dry instantly, you'll be in a lot of trouble. It scatters all over the place.
Related: Best Ball Pen For Cursive Writing
The fact that ballpoint pens manufacturers deliberately design pens for lefthanders made me realized that people have different needs when writing longhand. Unfortunately, most of the materials we use every day are designed for right-handed people these include but not limited to pens.
Ballpoint pen manufacturers, however, realized that, when it comes to writing, people have different needs and experiences. Thus, they designed the best pens for lefties.
With hours or even days of research, I've come up with this list. In this article, you'll find the best ballpoint pens for the lefties. If you are a left-handed person, this is for you.
The Best Ballpoint Pens For Lefties:
Choose the best one that suits you.
This is one of the best pens to buy for lefties. It has features that allow the left-handed user to avoid a mess when writing. One of its coolest features is the fast-drying ink. In fact, the ink dries in just a second making it one of the best ballpoint pens for lefties.
If you are a left-handed person, your hand follows your pen as it strikes on the paper. If the link does not dry fast, you have a high tendency to turn your work into a mess. But with Uni-Ball Jetstream, your problem is solved. This is the reason why this pen is one of the best ballpoint pens for lefties.
This pen is designed for children who are just learning to write. But more and more adults are enticed to use it too. It is because the designed for this pen is suited for left-handed users. Its curved tail allows the lefties to let the pen rest on their hand while gaining maximal control over it.
This pen comes with different nib sizes. If you want thicker penmanship, you can use the .5mm. But since the ink drying speed is what you need, you may choose the .3mm nib size. The smaller the tip size the faster the ink to dry.
But what makes this pen special is its ink is erasable. This means that, if you make mistakes, you don't have to worry. You can always go back and make the necessary corrections.
The Yoropen has a unique feature that allows the left-handed user to make some tweaks. Yes, you can rotate and change the angle of the pen when writing. This gives you better manageability over the pen.
The pen is designed to give the user the best writing experience. The adjustability feature gives the user better finger support and grip.
The pen is refillable. Making it more reliable and usable for a long writing task. Above all, the pen has a professional design making it comfortable to carry.
What makes this pen one of the best ballpoint pens for lefties is its special feature. Most fountain pens are not for lefties. But the Pelikan is designed to solve the left-handed person's writing problem.
This pen has a stainless nib in a smaller size that allows the ink to dry faster. This feature allows the ink to flow smoothly as you write and also makes the pen easily glides on the paper.
Most gel pens are not suitable for left-handed users. This is because most gel pens take time to dry. But Zebra Sarasa is an exception. Its ink is formulated in such a way that the user will not wait for minutes to dry. In fact, its ink dries instantly in a second in all types of papers.
Aside from the speedy drying ink, this pen also boasts of its smooth rubberized casing for better grip and manageability.
Like right-handers, left-handed people may be working in different types of jobs. Some work for outdoor jobs such as rescuers, first-aid personnel, and even police officer.
But each working condition and environment needs a specific type of writing tool. Not all pens can be suitable for all work demands.
If you are working on one of the jobs mentioned above, you probably need a perfect pen for you. The Uni-Ball Power Tank may be the best for you.
This pen is designed to function in all extreme work conditions. It is resistible to any type of temperature. Unlike other pens, the Uni-Ball is capable of giving neat and precise writing even on wet paper.
This pen has a smooth rubber grip that allows a left-handed user to deliver a job well done.
Related: Best Ball Pen For Cursive Writing
Conclusion
The above list contains the best ballpoint pens for the lefties. The pens included in the list, however, may not work for everyone. Nonetheless, these pens are selected based on my personal experience on these pens.
However, even though this list is made to help, finding the best ballpoint pens for lefties can be a challenge. As I mentioned at the beginning of this post, deciding what's best for you may depend largely on the type of job you are in.
It is my best hope that, by reading this simple article, you were enlightened. The ballpoint pens play an important role in the accuracy and accomplishment of your task. So in choosing the best pen, consider your needs. Ask yourself what helps you the most.
I hope I am making sense here. Now, it's your turn to make your choice. Good luck!