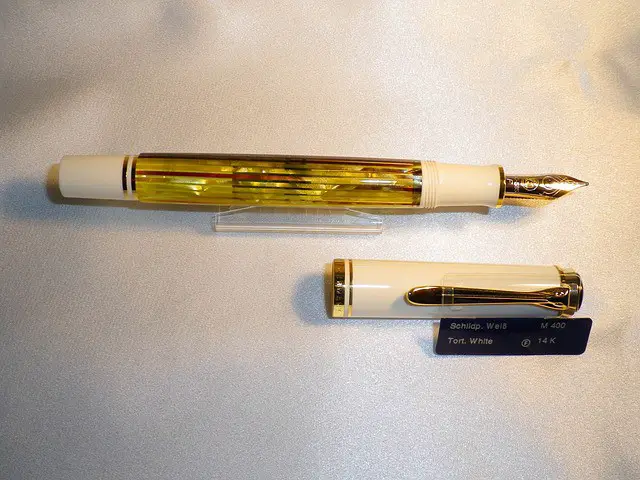 What are the costly pen brands?
Some people think of the pen as one thing that symbolizes their status on what class they belong to. Some think of it as a reflection of who they are their very own signature, a reflection of their prestige personality, ambitions and personal image. One that can represent who they are and what they have.
Everyone has his own favorite pen varying on different brands, whether it is the most expensive one or not.
Costly pen brands do not only dominate price but also exceptional writing performance. Aside from being comfortable in hands, they dry fast and write well.
Another cool thing about costly pen brands is that they don't bleed and smudge through the paper. These pens write smoothly and hassle-free.
Now, we present to you the top 10 costly pen brands.
1. Reynolds
Reynolds Pens started to enter the world of pens on October 29, 1945. This company was the first to introduce the first ballpoint pen to the market of the U.S.
For the very first time, about 5,000 costumers rushed to stores just to buy the pen.
By the year 11980s the company entered India where Reynolds become a popular pen.
Reynolds pens become well known for their excellent writing performance and user experience.
2. Kokuyo Camlin
In terms of durability and quality, Kokuyo Camlin is on the list. Camlin pens are popular around the globe because of its high-performance quality. Also, Camlin sells stationaries.
Just a normal bookstore or a school supply store, Camlin has papers, pins, pens, designs for scrapbooks, and some sort of useful things for school and office.
Kokuyo Camlin is a Japanese-based company. Before it explores the world, it started by the name Dandekar & Co. before it got its name by the year 1988. This brand was older than your grannies for Camlin aged a century old.
This company expands so fast around the globe. As they introduce inks, then pens, then soil color and soluble color to the water, it presents also a wooden pencil.
3. Aurora
Aurora Pen is also on the list. Aurora was an Italian pen brand. Well, these pens are not that popular, but they are known for having a quality pen. This company gives astonishing craftsmanship when it comes to pen making. This brand helps achieve the beauty and style of writings.
Because of its amazing pens that the costumers loved, they offer limited edition pens. As soon as these limited edition pens released, they were sold. Just like it's Diamante that cost more than a million dollars in price. The pen itself contains about two thousand diamonds and also have a nib of 18-carat gold. However, Diamante only produced one piece every year.
4. Paper Mate
Paper Mate is a subsidiary of Reynolds and it is found by 1940. This pen brand promotes ecological reservation. It sells not just stationary but eco-friendly stationaries.
Unlike other brands, Paper Mate sells ordinary pens and pencils. This brand promotes environmental protection and reservation. Their pens were made of bio-degradable materials.
Using Paper Mate you don't have to worry to just throw it away because it can decompose itself taking just a year and not a century.
5. Hero
Hero Pen is a Chinese brand. This pen is one of a kind. It is next to one of the famous pen brands, Parker. Hero Pen Company earned a good reputation.
By 1the 1980s and 1990s, Hero's pens become popular on the market and also got users' attention around the globe. These pens are loved not only by many students but also by pen collectors around the world.
6. Parker
Parker Pen was founded by the year 1888 by the man named George Safford Parker. Since then, the company had been producing well-crafted pens that most collections love.
On the pen market, Parker has a big name. Their pens are not just pens for writing but also a pen that tells a statement. Simple but elegant, they say.
Most of the pens created by Parker were worn by the businessman.
7. Mont Blanc
Mont Blanc Pen is one of the most popular pen brands around the globe. They create a pen that has a price of hundreds of thousands to millions of dollars.
They created a pen cover with golds, diamonds, emeralds, and other precious stones. One of them is the Mystery Masterpiece that contains 30 carats of well-crafted gems. You need a fat check for it cost almost a million dollars.
Well, an illusion becomes true when a normal person has a Boehme Royal for it cost more than a million and a half dollars. This pen contains 1,430 diamond and 18-carat white gold.
8. Cross
Cross Pen is one of the best pen manufacturing companies around the world. In fact, Cross pens have been used by influential people like U.S. presidents Bill Clinton, Ronald Reagan, Gerald Ford, Barack Obama, etc.
Cross is the official pen supplier of 'The White House' by the year 1970s. This America-based company started in the year 1846.
9. Sheaffer
Sheapper? Sheefer? Sheafer? It's a Sheaffer. This name brand was misspelled by many, even the costumes and those who patronize it. Not just that, this brand name once told to be a European-based company but actually, an American.
Well, Sheaffer is a twin company of A.T. Cross, they were the companies that produce tons of luxurious pens on the pen market. But unlike the Cross, Sheaffer offers cheaper pens.
They offer not just pens but also a high-quality pen pouches made of high-class leather. A class pen deserves high quality and beautiful pouches, well, Sheaffer produces leather pouches that beautifully garment their pens.
10. Cello
Cello started manufacturing pens in 1995. This brand is well-known to millennial for it offers modern kinds of pens.
Cello manufactures pens with a different variation of colors. Cello suits for schools and office use. Handy and light and ready to use pens, unlike other pens that were used only for special occasions like signing a contract, etc.
Conclusion
Luxury pen symbolizes power, and prestige it possessed. It reflects one's personality. Expensive pen brands can define who we are.
This 10 costly pen brands are among many luxurious pen brands available on the market today. Surely, you may find more if you look for it.
If you have something to add to this article, just leave a comment below. Next time, we will include those brands of yours.