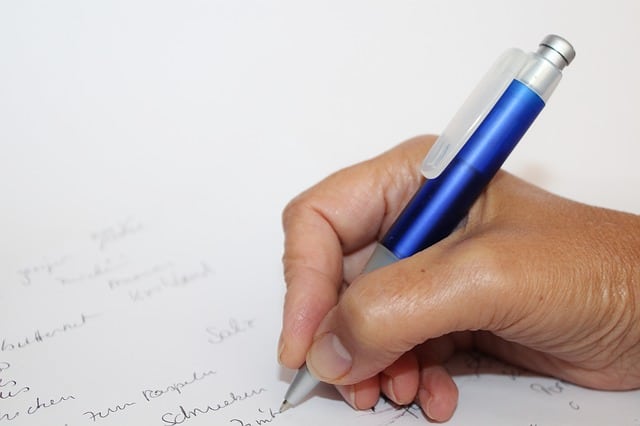 What are the most comfortable pens to write with? We receive this question all the time. People or pen users seem so tired with their poor functioning pens.
But the reality is that every pen user may have different experiences with a pen. This leads to our observation that ergonomics may not give one single connotation. Every writer, depending on his/her preference and writing task may find varied experiences with one pen.
Having said this, there is no single pen that satisfies all the writers' taste. Everyone has writing needs especially those with health conditions like arthritis.
However, we found out that there are certain pens that seem to be the most favorite to most writers and ordinary pen users. We also found that writers tend to consider the features of the pen. The following are the common features that most people tend to look at before buying:
Shape
The shape is one of the most important features that most pen users consider. This is because shape tends to fit or not fit with the user's condition. For instance, people with arthritic hands tend to love hourglass-shaped pens. This type of pen provides comfort and a better grasp during a writing session. Similarly, left-handed writers prefer curve-shaped pens. These pens allow lefties to write comfortably and being able to clearly see the lines on paper.
Weight
The second feature is weight. The comfortability of pens often the combination of weight and length. In most cases, people love pens that are long and have enough weight. It does not have to be too heavy. Great ergonomic pens have enough weight that could literally draw a line on paper without exerting deliberate effort.
Grip
For most pen users, the grip is a must especially for those with arthritic hands. In most cases, most people love pens with rubberized grip. Pens with rubber grip are more comfortable to hold during long writing sessions. The smooth grip helps a lot for people with a physical condition.
Ink Flow
Apart from the features discussed above, ink flow is probably the most important of all. No one wants to write using a pen with inconsistent ink flow. It is very important to have a pen with consistent ink flow when taking an exam, signing an important document, or taking a very important note.
The most comfortable pens to write with are probably those with the mentioned features. Before buying, check the pens whether or not they possess some of the important features discussed above.
To help you find your best pens, we did a research to find out the most comfortable pens to write in almost all writing tasks. The following are our recommended pens. The pens are presented in four different categories: Gel Pens, Ballpoint Pens, Rollerball Pens, and Fountain Pens.
Gel Pens
Generally, we found three gel pens that are comfortable to write with. Consider the following recommendations:
This gel pen has a special latex-free comfortable grip. The barrel length and weight are enough to provide balance during a writing session. It also comes with medium-sized nibs .5mm and .7mm. These tips give the writer freedom and ability to execute unique and complicated writing style even in tight spaces.
Unlike other gel pen brands, the Pentel Energel has smooth flowing and fast-drying ink leaving nothing but clean and precise lines.
Every person may have a certain preference when it comes to choosing a pen. People with smaller hands, for instance, may find slimmer pens comfortable. In contrast, people with larger hands may find larger pens more comfortable than skinny ones.
If you are in the second category, you might want a bigger comfortable pen. The Uni-ball Signo 207 Premier Retractable Gel Ink Pen is for you. In fact, this pen is made specifically for people like you. It comes with the rubber grip for strong hands.
Ballpoint Pens
Like gel pens, you can find many ballpoint pen brands online. But not all of those promises really are true. With that said, we decided to give you our recommended ballpoint pens. Hopefully, you'll find the most comfortable pens to write with from the list.
When it comes to durability and versatility, you cannot turn your back on pilot ballpoint pens. One of the best in this category is the Pilot Dr. Grip Ballpoint Pen.
The main incredible feature of this pen is its comfortable ergonomics. Dr. Grip Ballpoint Pen comes with a double layer of rubberized grip to provide absolute comfort for any writing task.
The whole pen structure provides a perfect balance between weight and size of the pen. It is not too heavy and too light. The company designed this pen to give any type of writer a versatile writing tool for any challenging writing task.
If you have larger hands, or if you have an arthritic hand, you might be seeking bigger pens. Larger pens are comfortable to write with. The size prevents cramping and it also eases your finger especially during a long writing session.
One of our most favorite wide ballpoint pens is the Sakura Grosso Ballpoint Pen. What we like the most about this pen is not only its wide barrel but also the firm rubber grip. The weight of the pen makes it capable of making lines without extra effort. Not only that, but it also makes your fingers more relaxed.
Another comfortable pen to write with is the Zebra Surari Airfit Grip Emulsion Ink Pen. This ballpoint pen is perfect for those writers with smaller hands. What we like about this pen is its air cushion feature that protects the hand or fingers from sweating. It serves as insulation.
The barrel structure of this pen is similar to Dr. Grip. Only it is smaller than the former. If you have a sweaty hand, then the Zebra Surari might be for you.
Our next recommendation for comfortable ballpoint pens to write with is the Kokuyo Fitcurve Ballpoint Pen. It has a great balance of body weight, firm grip, smooth and fine writing performance.
The thin nib size provides freedom for the writer to execute any writing style on any given writing space. This ballpoint pen does not only provide comfort but also great flexibility.
Our last recommended comfortable pen is the Uni Alpha Gel Ballpoint Pen. This pen may be the best as far as cushioned grip is a concern. This pen can be the best writing tool especially when you feel a little stress.
The grip is super soft comparable to stress balls. It just sits perfectly well on smaller hands and fingers. With this pen, a long writing session can be easy and enjoyable.
Rollerball Pens
Apart from ballpoint pens, we also have a few favorite rollerball pens. If you have not found your pen yet, then you might want to consider our recommended rollerball pens. Like ballpoint pens, there are hundreds of brands out there you can choose from. Unfortunately, only a few of those work pretty well for us.
Thus, in this section, we can only recommend two brands of rollerball pens that will surely provide you comfort in your writing sessions.
What we like about this pen is its rubber coating that gives smoothness on its entire body. Unlike many pens that are made of stainless steel, the Stabilo Worker Colorful Rollerball Pen is rubberized.
The rubber coating does not make the pen structure weak. In fact, it is one of the durable and reliable pens you can have.
The fine nib sizes give clear and precise writing. It has a modern ink mechanism that provides consistent ink flow. If you are a perfectionist hand writer, you will appreciate the writing quality of this pen. The soft rubber coating and smooth ink flow make this pen one of the most comfortable pens to write with.
Our next pick rollerball pen is probably the best of its kind: The Tombow Zoom 505 Liquid Ink Rollerball Pen. For decades, this brand has been producing exceptional quality and superior writing performance. The brand won an international award in 1990.
The whole pen structure is made of aluminum. The grip is coated with soft rubber for comfortable handling during writing sessions. This pen is a perfect balance between weight, length, ergonomics that give the writer ultimate writing experience.
Fountain Pens
Fountain pens are, for years, boasts elegance and plenty of aesthetic features. If you are looking for pens that could make you even more sophisticated, you might want to try fountain pens. But with hundreds of brands, which one should you end up using?
In this section, we will give you fountain pens you can trust. Here are some of the most comfortable fountain pens to write with:
There are hundreds of fountain pen brands you can choose from. But as you may know, not all of those fountain pens comfortable and reliable. In fact, most fountain pens often have problems with ink flow and smudges.
The Pelikan Pelikano is an exception though. This fountain pen does not only provide an exceptional writing experience but also superior writing performance. It has a perfect combination of weight and ergonomics.
This pen has a consistent and fast-drying ink leaving nothing but clear and precise lines. The modern type of grip provides comfort for all types of writers. In fact, the Pelikan Pelikano is one of the most favorite fountain pens among left-handed writers.
Every writing task or profession may require a special type of fountain pen. If you are a student, for instance, you need a reliable writing tool for your daily use. Not all fountain pens are perfect for long handwriting. Except for the Pilot Penmanship Fountain Pen.
This fountain pen is designed for students. The whole pen structure is light enough for a comfortable grip and writing experience. The fine tip allows the writer to write on tight spaces. And the best part is the non-smudging ink that gives clear and precise writing.
The Lamy Safari Fountain Pen can be a heavy pen for new fountain pen users. But as soon as you accustomed to it, the weight can be one of the features that you'll appreciate about this pen. Because it is heavy enough, you don't need a deliberate effort to make the pen work. What you need is to guide it as it glides on paper.
The ergonomic features are great for all sorts of writers. It is efficient and convenient for long hours of writing. The tip and ink provide a smooth writing experience without having any problems with smudges and smears.
Our next recommended comfortable fountain pen to write with is actually another Lamy Fountain pen; the Lamy Nexx Fountain Pen. It looks pretty much like the Lamy Safari. The only distinction is that it has a wider grip size compared to the Lamy Safari.
But like the Lamy Safari, this fountain pen is very comfortable to hold during long hours of the writing session. The combination of weight and great ergonomics give this fountain pen an edge over its competitors.
If you are looking for a lightweight fountain pen, then you might want to try the Monami Olika. This fountain pen also equipped with a rubber grip for comfortable handling during writing.
The hourglass shape of the barrel gives your hand a pretty comfortable writing experience. The weight and length of the pen provide a great balance.
Conclusion
Choosing the most comfortable pens to write with is tricky. There are a lot of things you need to consider. Ergonomics are the biggest factors. The problem is that no single standard can be applied to all writers. Every person has his/her own definition of "great ergonomics".
Nonetheless, we hope that this post will help you in choosing your next most comfortable pen to write with.