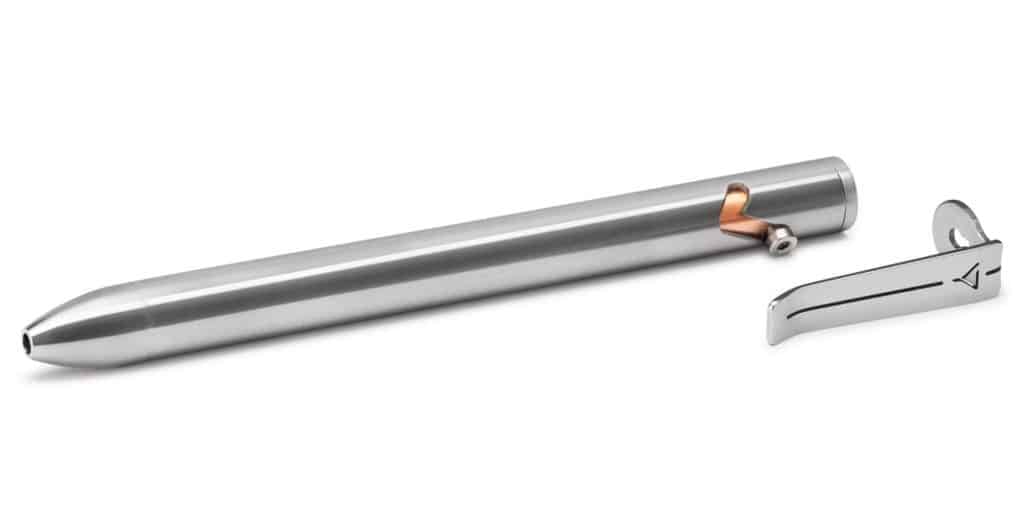 While initially, pens were designed, made, and used for just one purpose, to write on paper. They were simple tools we all had, and we didn't pay much attention to them.
These days, the situation is entirely different. Modern pens are a piece of art, they come with amazing features, and they come with unique options. 
This brings us to the latest Refyne pen review. This pen has been with us for quite some time, and it has been known as one of the best choices you can make thanks to several reasons. 
To help you reveal all the facts you need to know about this model, we had to test and review it. In the content below, we will check and provide all the aspects you need to know. Without further ado, let's begin. 
Click here to read more reviews on Amazon
---
Refyne pen review: Our test and our experience
Refyne pen has one of the most appealing bolt actions. As you can see there is a Torx T6 on the top. When you press it, it will slide through a unique channel and activate or deactivate the pen.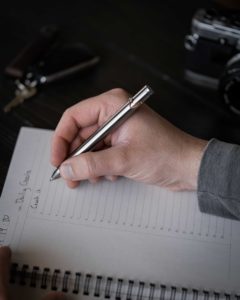 The overall experience with this process is rewarding. The mechanism is smooth and offers fluid motion we all liked. We must add that the mechanism is very responsive and designed for heavy-duty usages.
Tough construction is another thing we all liked. First of all, the pen is made from polished titanium. This is one of the hardest and most durable metals known to man!
The end result is a professional design, loaded with great attention to detail and stunning craftsmanship. The coating is based on PVD stainless steel. You can choose between a matte black finish and gunmetal. Both versions have the same design and the same features.
Being able to choose between two color options is more than just important. You can simply add the pen to your existing office décor and match it with all the other elements. The result is perfection, simply said. 
If we take a deep look beneath the first layer, we shall see a copper barrel, deep pocket clip, and also T6 Torx hardware (specifically made for this pen). 
The goal of craftsmanship is to provide elegant pens that will look great in your pocket but look even better when in the use. At this point, we can also add that the unit is designed for men and women.
Once again, we have more advanced, more unique features. These two are based on tough construction. The pen can be used as a self-defense weapon and it can be used as an emergency glass breaker.  
Add the fact that the size is small and compact and you can deduce why these features are making the pen stand out from the crowd. Despite them, the pen is small, compact, and lightweight.
---
Click here to read more reviews on Amazon
---
The refill inside the pen is based on Black Schmidt easy FLOW 9000 M Refill. This is hybrid ink that can be used for multiple applications such as gel, ballpoint, and rollerball pens.
Filling the pen is possible with any variation of Parker Style G2. The best example is Fisher Space Pen PR Series. Users have the ability to choose the type of ink they prefer most for their specific or generic purpose.
The pen comes with 100% customer satisfaction. Each unit is crafted to perfection, and each one will come with precise specifications as stated above. In the case of a problem, the owner can contact the manufacturer and solve the issue.
The deep carry clip present in the package is removable. There are no holes that will be visible once the clip is removed. In addition, the entire process takes under one second and it is extremely easy to do.
But, the clip is keyed which makes the installation and removal even easier and especially helps newbies. To remove it, you will have to undo a screw and remove the clip. The installation goes on the other way around.
The surface of the pen is tough and scratch resistant. After all, it has been developed for users who will use it every single day, for a long period of time. On the other side, there is no cheap coating that will start disintegrating after some time.
The pen is strong and can withstand anything you can throw at it. The same characteristic applies to the removable clip we have mentioned several times.
One, an interesting fact is that this model isn't considered as very lightweight. The weight is 1.3 ounces. There is a separate unit made completely from titanium, without stainless steel elements and it weighs 0.9 ounces. 
However, the lighter model isn't scratch-resistant, so you will basically have to make a compromise. 
The dimensions are 4.53″ x 0.39 inches (115mm x 10mm) and they make this pen extremely comfortable, especially when used for hours. It is just the right size that allows it to fit any pocket, to be carried easily, and also to feel nice in a hand.
This brings us to the next main feature. The pen feels nice, desirable when in the hand. You can feel the weight, but you can also feel the comfort that will be present all the time. 
This is the case with premium pens that have been designed and made by professionals for those who enjoy using them, period. 
You may know that we have mentioned T6 Torx screws several times in our Refyne pen review. This refers to the screws that hold the clip and the main mechanism in place. 
The screws have the same thread as ordinary ones, but the head of them and the design have been specially machined to accommodate this very pen. Don't worry, the screws can be paired with any, standard T6 bit.
The screws are made from steel and they are tested and then optimized for long usages. You don't want the screw to fail after some time, and with this pen, it isn't going to happen.
The best way to see the craftsmanship of the screw and other elements is to disassemble the pen. There you shall see that each element is crafted separately and each one comes with amazing attention to detail. 
There is no need to get the pen and then disassemble it. The manufacturer will provide you a picture of it.
The minimalistic design is definitely something most of us like. On the other side, we may have some users who dislike this characteristic. In the end, the pen looks simple, but it is far from that. 
The unit is designed to be carried and used every day. It is an elegant and desirable alternative most of you will love. 
Salient features
Made from titanium or stainless steel
Great feel when using the pen
Easy to refill and can use countless types of ink
Removable deep pocket clip
Customer machines T6 Torx screws
Available in black and gunmetal versions
Can use used as defense pen and emergency glass breaker
Copper barrel insert
Innovative and appealing action mechanism
---
Click here to read more reviews on Amazon
---
This Refyne review was something we had a lot of fun writing. The pen is a professional alternative that comes with amazing capabilities, even better design, and offers all the features you may need, at any given moment. It is a one-time investment, and it is something that will serve you for decades, not years.