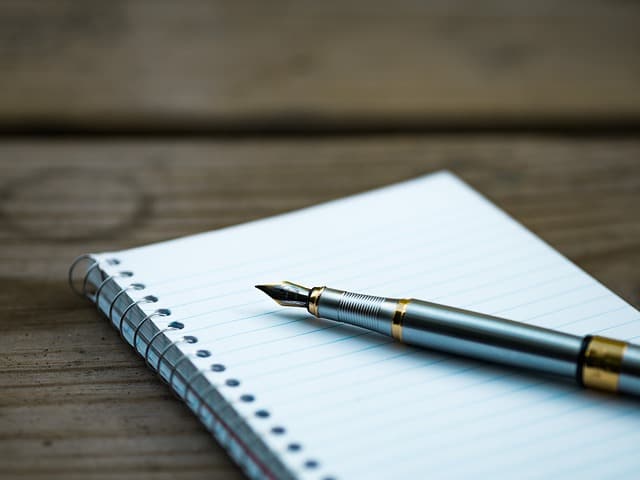 What are the best ballpoint pens in the world?
There are just some things we have that have a great purpose but we do not notice the importance unless we lost it. One of these things that we often use perhaps in our everyday lives are pens, specifically, ballpoint pens. We use them in writing our to-do list at home, in computing for our Math problems at school, in signing papers at work, and many other things; and it will surely be hard for us without it. It is true that the pens are everywhere.
In fact, it remains the most widely used writing tool despite the advancements of technology, such as the use of computers and smartphones.
Just a short background, in 1888, John J. Laud tried to invent a pen that can write on leather and invented the first ballpoint pen with a small steel ball that rotates freely but it could not be used for writing and was not commercially viable. But in the 20th century, a Hungarian newspaper editor named Laszlo Biro tried to make a quick-drying pen and without blotches because he was tired of wasting his time in refilling his pens with ink. Gyorgy, Biro's brother, and a chemist helped him create the first working ballpoint pen that was first presented in 1931 at the Budapest International Fair and patented in France and Britain in 1938. They combined a viscous ink and ball-socket mechanism.
When we talk about what could be the best ballpoint pens in the world, we can give you two perspectives:
First is on the basis of its features and usefulness, or the technical side. Here are the following pens in this spec.
This ballpoint pen is regarded as the best for durability and was said to be designed to last forever. It is also the most expensive model of Montblanc's because of its long-term functionality and reliability. It is composed of "black resin composition and ruthenium appointments and accents" with a contoured barrel grip. Available in six colors, the Montblanc's SkyWalker comes with the company's signature Mystery Black Ink. It is also available in six colors and in fine- and medium- point. Each pen has its own serial number making it unique. It is also made by crafting fine materials together making it a statement piece.
Being the trademark blue that the company first launched in 1883, the Expert Deluxe Obsession ballpoint is said to be the best for work, having a soothing color that provides a nice, calming influence for your stressful days at work. This ballpoint pen has a cigar shaped, with blue ink, and flow that is "distinct, precise and professional". This pen is handmade like all the Waterman pens. It is also retracted through twisting.
It was first created in 1948 by Paul Fisher and was originally known as the Bullet Space Pen. This ballpoint pen is regarded as the best for versatility having undergone many upgrades like a new ink cartridge requested by NASA to be used in writing in very extreme temperatures. Most ballpoint pens rely on gravity and cannot be used perfectly upside down but this ballpoint pen can. Made of brass and touch of chrome, this pen allows you to literally write anywhere without any conditions. It also comes in a larger "shuttle" version and in matte black.
Made out of fiberglass, this ballpoint pen is regarded by the bird-like the best designed. It had won several awards for its design and was displayed at the Museum of Modern Art. It writes smoothly and efficiently aside from its looks having not that cheap price but definitely not the most expensive.
Its name comes from "Bic" which means pen and "Cristal" means to be the bestselling pen in the world. This ballpoint pen has a lesser price compared to the other pens on this list. It can be found in any writing space in public and was called to be the standard. Like most pens of this kind, it has a translucent barrel where you can literally see how much ink left and this pen is not also refillable. It is perfect for everyday use because it is heavy-duty and can write in a "smooth, effortless and distinct flow". This pen is regarded as the best fan favorite.
If you want a simple pen that writes well at a reasonable price, this pen is for you. It is regarded by the bird-like the best pen for everyday use. This pen was designed to be retractable to protect the ballpoint when not in use and has a transparent barrel to see how much ink is left.
The best ink title belongs to this ballpoint pen with a "super" ink developed as fraud-buster. Its ink would not fade and would not smear when spilled on top with water, unlike other pens, because it is designed to stay put and form a bond with the paper no matter how fast you write. It has an embossed grip and stainless steel accents.
This is the best overall ballpoint pen to the Cross Century Classic for the following reasons. You can't top its looks because it is made of "rolled gold and 10- to 14- karat gold filled. It has a perfect weight and comfortable in the hand for long periods of writing. It is retracted by simply twisting when you are done. It also handles any kind of paper. This pen has an "ultra-smooth twist retraction mechanism" and has a lifetime mechanical warranty.
This ballpoint pen is Randall Tompkins favorite because it writes smoothly in bold lines, has a low-viscosity ink, and "a wider barrel at the rubber grip". It also comes in different colors such as black, red, fuchsia, blue and many others. It has a millimeter tip size and is refillable.
Next in line is the Bic Velocity that uses the "Easy Glide System" and writes very quickly, thus called "Velocity".
It can be included from the list of the best office gifts because it may be considered elegant but is relatively inexpensive. It has black, blue, or red color and is refillable.
This ballpoint pen is also called "All-Weather Pen" since it can be used in extreme conditions like temperatures ranging from negative 30 to 250 and can also be used up to 35 feet underwater. That is through the use of a pressurized cartridge.
A pen can offer different features and advantages to be considered as useful but it is not enough to be called as the best. A special pen is worth nothing without a user who thinks and a user who will use the pen according to its purpose. A user who thinks will use the pen to open a passage from the brain to a page to convert his ideas, thoughts, and memories into words that other people will interpret.
Considering this, a pen should serve as a tool for reading the mind of the writer. A user who thinks will be able to communicate his imaginations to the reader. A user who thinks will use a pen to give inspiration and provide knowledge to other people. Lastly, a user who thinks will not use the pen in committing unacceptable doings like falsifying of documents, forging of the signature without permission, copying answers in a test and hurting people.
The purpose of a pen is to help the user to record information and to express ideas. However, in order to be the best, a pen must exceed the limit of its purpose. To be the best, a pen must be willing to be played, tapped on a table and enter the mouth of the user when he is out of ideas just to help the user think.
To be the best, it should not only be used to convert memories to words but also make memories with the user. To be the best, it should not only offer unique features but must also offer satisfaction to the user. To be the best, it should not only help the user to think but also help him to learn.
To be the best, a pen should not only be seen as an educational tool for the owner but a tool to educate other people. To be the best, a pen must be available when the user needs it. To be the best, a pen must be willing to offer all its ink for its purpose. To be the best, a pen must have a user who is willing and able to use it to produce quality output.
Offering unique advantages may be the reason to call a ballpoint pen "the best". Advantages such as in terms of durability, size, price, design, and versatility can be considered, but at the end of the day, what will matter most is the content is produced. No one will care about the type of pen you used or will use because people will only care about the message your output has.
It is not the quality of the pen that will give quality content but the quality of the user that has the power to produce output. It is not necessary to have special features to be considered as the best because even the simplest ballpoint pen can be called the best when it served its purpose and create a mark of its own.