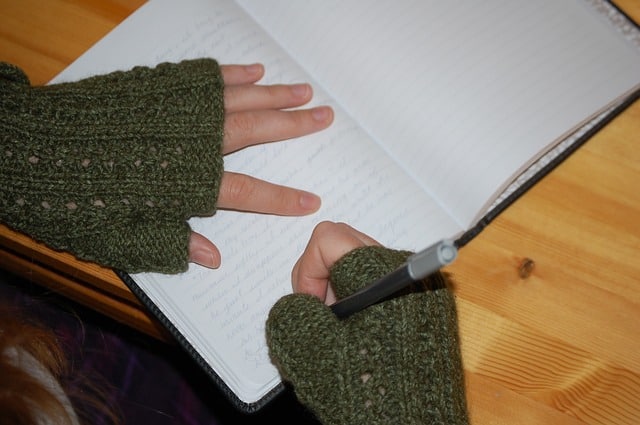 If you are using a Moleskine notebook for your daily journal that means that you are serious in keeping your daily experience safe. But the question that most people always ask us what the best pen for Moleskine journal is. This is indeed a valid question. Because using an unreliable pen will only sabotage your writing.
For years, we use Moleskine notebooks for our daily journal too. And throughout the years, we tested its durability and reliability. Its paper lasts for, in my opinion, a lifetime. The texts that we had written decades ago did not change. It looked like we wrote to them yesterday. But what pen do we use?
People may be thinking that any type of pen can work well in journaling. But the fact that you are looking for the best for Moleskine journal means that you recognize the challenge. You want your journal to last long. Thus, you need a reliable pen or pens for that.
Related: Best Ball Pen For Cursive Writing
The truth is, there are a variety of pens you can choose from. We can't tell you exactly what works for you because we have different preferences when it comes to our writing tools. What we want to do is to share with you the pens that we tried over the years. We will also share our experience with each pen we listed below. The judgment is in your own preference.
But before digging any further, we want to divulge what makes a ballpoint pen perfect for a Moleskine journal. To us, the best pen is the one that does not skip. A diary is very important to document. Using a consistent pen is what you need.
Secondly, a perfect pen must give a fine writing performance. You want your diary to be readable and clear.  Your ball pen should deliver the writing job legibly.
Both fineness and consistency are two important characteristics of ball pens for journal writing. But again, your preference may be different from ours.
Now that we have already shown some considerations in choosing the best pen, it's time to talk about the different types of pen you need. Pick the one you think is best for you.
Pick your best pen for Moleskine journal
It's time to choose…
Fisher Space Pen
This pen has a pretty good reputation working at a very cold temperature. If you are living in a cold place this pen is perfect for your daily journaling. Its pressurized ballpoint pen ensures consistency of ink flow. You won't experience an interruption in your writing.
Specifications:
One of the most reliable, efficient, and user-friendly pens in the world
Works in extreme environment conditions
Even works in high temperature up to 250F
Made for high precision demanding tasks
Ensures quality writing performance
Click here to read owners' review on Amazon
Pentel Energel
This pen produces fine lines and does not feather. However, the line is a bit wide for writing. If you want wide lines in your handwriting, this is for you. But if you love the narrow writing style, then, I'm afraid this is not for you.
Specifications:
Equipped with modern ink technology allowing the pen to produce high-quality writing performance
Does not smear and smudge
The ink dries so quick perfect for left-handed users
The rubberized grip provides comfort for the users even in long writing conditions
Click here to read owners' review on Amazon
Pentel Hybrid Gel Roller K105
This is one of the most durable pens. We use this pen for years and it did not fail us. Although some people complain about its ink inconsistency, it did not happen to us. Maybe, sometimes, pen performance may depend on many factors. One of it could be the user's care.
Click here to read owners' review on Amazon
Pentel Slicci 0.3
This pen never gave us even the slightest problem. Children love this even more because of its smaller size. But it is also perfect for adults. This pen comes with different nib sizes to choose from. The ink flows consistently allowing the user to write without any interruption. It worked for us well.
Specifications:
Gives fine and super clear writing
Lightweight and provide easy maneuverability when writing
Super reliable and does not break when dropping on hard surfaces
Click here to read owners' review on Amazon
Pilot G-2
Many people who use Moleskine find this pen a very good writing companion. Most Moleskine fans have positive comments on this pen. In fact, they recommend it for those who write daily journals. It also comes with several colors and nib sizes you can choose from. The dark color seemed to be the best.
Specifications:
Provides smooth, comfortable and even writing performance
Has a comfortable grip that provides smooth writing experience especially for Moleskine journaling
Click here to read owners' review on Amazon
Pilot Hi-Tec-C 0.3
This pen comes with many colors and nib choices you can choose for your style. Most people like the color blue. But what we like the most about this pen is the black one. It satisfies our need. Gives our writing elegance and neatness. We definitely recommend this pen to Moleskine users.
Specifications:
Some of the best black-inked pens
Provides clear marking and writing performance
The ink does not easily get blurred
Best pen to use when writing small characters
Click here to read owners' review on Amazon
Pilot V500/V5 Extra Fine
This is one of the pens we used when we had just started journaling. Its performance exceeds our expectation. In fact, since then, it became our standard in choosing other pens. It worked perfectly on Moleskine notebooks. It is easy to hold and write on the paper.
Specifications:
One of the best pens to use for journaling
The design provides detailed and precise marks on the paper
Comes in different colors
Provides excellent writing performance
Affordable luxury pens
Click here to read owners' review on Amazon
Sakura Gelato Extra Fine
This could be your best pen for Moleskine journal. It will give you a fine line. Its nib sizes are smaller than most pens. The ones that we tried were the .4mm and .5mm. These nib sizes gave us what we wanted for a pen. The ink is consistent and never feathered. But if you want a wider line, you can choose the .8mm.
Specifications:
The ink does not skip
The nib gives an extra fine writing
Comes in different nib sizes giving users several options
Commonly used by artists and longhand writers
The ink does not contain any acid
Click here to read owners' review on Amazon
Uni-ball Gel Impact RT 1.0
This pen produces wider lines. Honestly, we don't like it when used in writing. But we do like it more when making bold lines and letters. Sometimes, we deliberately bold our writing to highlight something. And this pen delivers the job we want very well.
Click here to read owners' review on Amazon
Uniball-ball Jetstream 0.5
Looking for the best pen for the Moleskine journal? Then this pen is for you. What we love the most is its .5mm nib size. The color black ink gives us exceptional writing output. It is perfect for Moleskine notebooks.
Specifications:
One of the finest pens with 0.5mm
Provides smooth writing
Does not smudge
Perfect pen for left-handed users
Click here to read owners' review on Amazon
Uni-Ball Signo 207
If you are looking for smooth writing performance, the Uni-ball Signo will give you what you want. Our experience with this pen was awesome especially when we tended to write fast. The line it produced was exactly what we want for our journal. You can choose specific nib size for the line width that reflects your personality and style.
Specifications:
Has special mechanisms that protect the pen from fading and fraud
Water-resistant thus the ink does not fade
The rubber grip gives comfort and an unforgettable writing experience
The nib size is perfect for Moleskine journaling and other writing tasks
Click here to read owners' review on Amazon
Uni-Ball Signo MC3
If you want multiple colors in one, then this pen is what you are looking for. It contains three main ink colors: red, blue and black. However, although this pen works perfectly on Moleskine notebooks, we just don't like its bigger size compared to other pens. But the good thing about this pen is that it allows you to change ink color instantaneously.  By a single click, you'll have it.
Specifications:
One of the most comfortable pens to use in long writing
Provides high-quality writing performance
Made of stainless steel that makes the pen reliable and sufficient
Click here to read owners' review on Amazon
Now that you have all our recommended ballpoint pens, it is your turn to pick up your best pen for the Moleskine journal. In choosing your best pen, don't forget the tips we mentioned above.
Related: Best Ball Pen For Cursive Writing
We hope that this simple list helps you in making your buying decision. You may or may not like some of the pens presented above. That's perfectly okay. We are all different and have different preferences in terms of choosing our writing tool. Just follow your style!