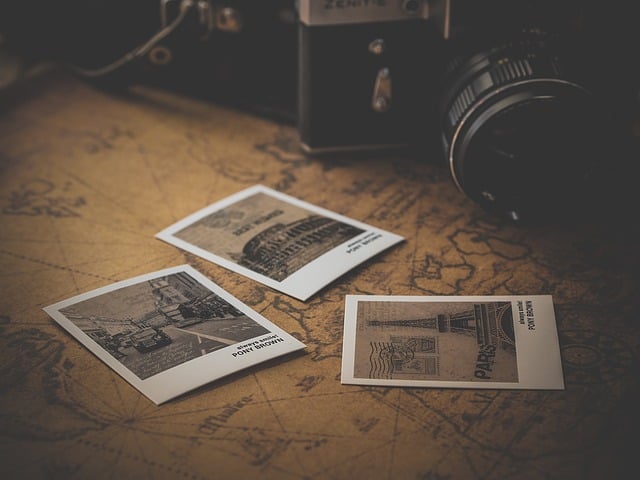 Memories are created in every moment, some of these memories might be something you want to forget forever but still give you a slight chuckle of how stupid and embarrassing it was. Some might bring melancholy feeling whenever you reminisce it but brings a smile because alongside it is the happy memories. Such memories are best kept and shared with the people we care about. That is why one the best way for such memories to be kept and be shared is through photography.
Photographs are the physical representation of our memories and our past. It could capture everything, from our childhood up to our present lives. Through photographs, we could reminisce and go back even to those events that happened when we're still a baby such as our first birthday, first smile, first cry, and other firsts.
Photographs help us remember not only the events but the person itself; friends who have to live away, loved ones we barely see, and even important people who passed away. With the help of photography, we are able to capture every moment that we deemed memorable for us, a good example of this are wedding photos, debut photos, and etc.
Such an event truly brings warm fuzzies whenever you are reminded of the past. There are some cases where people write on your photo to commemorate that they were there when that joyful moment or event happened.
But writing on photo paper can be frustrating sometimes because most of the time the pen you use to write on the picture would smudge or smear on the photo resulting in the photo to be ruined, and sometimes the ink would take a long time to dry.
Photo papers are not very absorbent and take a while to dry. That is why some companies created special pens for the purpose of being able to write on photo papers without smudging or smearing it.
There are many different kinds of pens used for different kinds of papers and purposes, such as ballpoint pens, rollerball pens, gel pens, marker pens and etc.
But most of these pens are not suitable for writing on photo paper. In choosing the right pen for the purpose of writing on a photo paper there are things that we should consider such as Finish, Tip size, Drying time, Acid-Free, Longevity, and Water-resistant.
ZIG Photo Signature Pen
One of the best pens we found that is suitable for writing on photo paper is the ZIG photo Signature Pen. The ZIG Photo Signature Pen writes safely on photographs, they are a high-quality photographic pen that is made in Japan. ZIG Photo Signature Pen has photo-safe, fade-resistant and water-resistant inks and is available in different colors.
The ZIG Photo Signature Pens are designed to write on the surface of modern plasticized photos and other shiny materials. The description also highlighted some of the ZIG Photo Signature Pen features, such as the pen having a precise, fine tip and photo-safe quick-drying inedible ink which would not smudge or smear on the surface (front or back) of modern plasticized photographs or any photo surface.
The ZIG Photo Signature Pen is a very quick-drying pen that allows you to easily mark on glossy surfaces like photos, CDs and vellum paper. The ZIG Photo Signature Pen has a permanent, and fade-resistant alcohol-based ink, it is also acid-free and waterproof.
The ZIG Photo Signature Pen is available online. It varies in price ranging from different prices depending on its seller. Some areas cheap as $1 but there are some people who sell it for $75.
The ZIG Photo Signature Pen has a vibrant color, does smudge when writing on a photo.
Most of the people who bought and used it are extremely satisfied. The majority of the users gave it five stars rating. But although some are satisfied there are a few who are not.
Aside from ZIG Photo Signature Pen, there are also pens that are good for writing on photo paper such as Sharpie, Uni Pi:s and Zebra Mackee.
Sharpies
Sharpies are a very popular ink company in America. They sell pens exclusive for photo papers. One is the Sharpie Standard Marker Pen, it is a good pen to use in designing and writing on a photo. It is smear-resistant when dry, permanent on paper as well as water-resistant. It is also available in a different color such as blue, green, red, etc.
Unlike other markers or pens which dry really slow, Sharpie Standard Marker Pen dries really quickly. We could use this in different kinds of photo paper or photographs and also for Instax film.  The only thing in Sharpie Standard Marker Pen is that it has a thick point so we can only use this in a photo with a wide space and it tends to limit the words we could write.
Every problem has a solution if you want a finer pen that you could use to write on a photo paper that is smear-free, here comes Ultra-Fine Point Sharpie which has an extra-fine hard nylon point for a 0.3 mm line width. It is much finer than the standard marker pen. It also varies with different colors and sets.
Ultra-Fine Point Sharpie is available in 42 different colors. This includes neon colors; blue, orange, yellow, pink, and green, they are called Sharpie Neon Fine Point Permanent Markers. What's cool about these neon pens is that it glows under black light.
But the thing is if you will use this on a white color photo paper some colors were not that visible such as the green/yellow-green. They also offer Sharpie Metallic Fine Point Permanent Markers, they seem quite thick when you use this but they are not smudging at all they dry in an instant. This is good in designing your pictures like draw a crown, or effects because of the glimmering marks of the pen. Sharpie Metallic Fine Point Permanent Markers comes in 3 colors; the bronze, silver, and gold.
If you can't decide on what size you should buy, here are Sharpie Twin Tip Permanent Markers which comes in two marker sizes; twin tip and super twin tip.  Sharpie currently offers 49 unique, vibrant colors. We could buy these products online where you can find many other products that you may like.
Sharpie has become one of the most famous marker pens because of its very satisfying and incredible writing performance. Sharpie markers have a firm tip that produces a quick flowing and also has a fast-drying ink.
Sharpie is also an AP-certified non-toxic, meaning it's safe but not recommended to use in pastries design.
However, if you're going to design your photo with small and cute details, a metallic sharpie is highly recommended.
Uni Pi:s and Zebra Mackee
These two are both economical and good for the environment kinds of pens. Their ink is also quick drying and refillable, unlike other marker pens that aren't and just being recycled. This also comes with sets of pens and different colors. These are quite affordable than other photo pens.
We could use these two on many other surfaces other than photo paper like metal, plastic, etc. They are oil-based ink and this makes them water-resistant. Both also are double-sided, with fine and extra-fine tips.
These two pens are quite similar in their designs but Zebra Mackee has a firmer and finer tip than Uni Pi:s. The former also has a refillable ink cartridge that can also be bought online.
These two are not for everyday use, if you will use these on a normal paper there is a high chance that it will bleed and just ruin the paper because their ink flow is huge. They are most suited for heavy-duty materials such as poster board, plastic, photo paper, etc. If you like colorful things and unicorn these suits you because they come in rainbow colors.
There are so many different kinds of pens, different sizes, different colors, different brands but everything has its own goal, to write. And each of these pens has its own unique ability, for example, there are pens that are special for professionals, for photo paper, for sketching and etc.
We hope that after reading this article you finally found the best pen to write on photo paper that you need for your project.