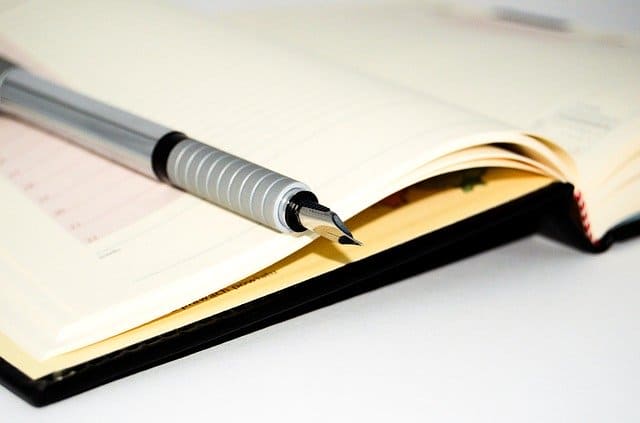 Why do fountain pens leak at higher altitude? This is one of the questions I often get from our readers. This post is dedicated to answering this question. In addition, this post also contains some effective techniques on how you can keep your fountain pens safe during the flight. I hope this helps.
Fountain pens are some of the most amazing writing tools you can have. You can use regular writing tasks, notetaking, and diary.
However, fountains have negative sides. In some cases, especially if you have the cheaper ones, these pens tend to leak.
The most common issue (and you might already hear this before) is that fountain pens leak during a plane flight.
And because of this, there is a funny belief that fountain pens and aircraft do not get along. Well, it is not what people commonly think about. There is a reason or rather a scientific explanation as to why fountain pens do leak during a plane flight.
So, why do fountain pens leak at higher altitude? The reason is the pressure in the cabin of an airplane during the flight. When the plane reaches 35,000 – 40,000 feet, the air pressure in the cabin changes and the air expands. The expanding air will push the ink to the nib area of the pen. When the pressure continues, the leakage follows.
The reason why fountain pens leak during an aircraft flight is not that planes and fountain pens don't get along. The reason is the change in the airplane's pressure during the flight.
Does this mean that you cannot bring fountain pens with you during a flight?
Absolutely not. You can bring fountain pens during a flight. You just need to do some techniques to keep your fountain pens from leaking.
Fortunately, there are many things you can do to keep your fountain pen safe from leakage. In this post, I will share with you some of the quick and simple ways you can do to avoid leakage of your fountain pen.
Tips on How to Avoid Fountain Pen Leakage
If you worry about your fountain pen leaking, do the following tips:
The first thing you need to do is to make sure that the fountain pen is stored in safe areas. The best place to secure a fountain pen from leaking during an aircraft flight is your shirt pocket or in your hand-carry bag. See to it that the nib is positioned upward so that when the cabin pressure changes, the ink will not be able to reach the tip of the nib. This way you'll be able to secure the fountain pen from leaking.
The second thing you can do is to make sure that the fountain pen is full of ink. This way, there will be no air inside. And when there is no air, there is nothing that will push the ink when the cabin pressure changes.
Place the fountain pen in the zip lock bag during the flight. Just make sure that the nib is held up to protect the fountain pen from leaking.
To avoid leaking, do not use the fountain pen when the plane ascends or descends. Either of these conditions causes tremendous air pressure changes that will, in turn, cause the ink to leak.
Buy a fountain pen that can stand against atmospheric pressure during the flight. The technology enhancement allows fountain pen manufacturers to design fountain pens that have greater qualities. I have one recommendation for you when it comes to choosing the best fountain pens for aircraft flight.
PILOT Vanishing Point Decimo Refillable and Retractable Fountain Pen
The Pilot Vanishing Point Decimo is not primarily designed as a writing tool for an aircraft flight. However, its features and the way this fountain pen is made makes it perfect for airline passengers.
This fountain pen comes with a rhodium-plated gold nib that can retract into the barrel when you're not using it. With its clip, you can easily keep the pen safe during the flight. And because it is exceptionally crafted, this fountain pen can withstand atmospheric pressure that occurs during the high altitude flight.
Not only that, but the Pilot Vanishing Point is also great to give as a gift. Its aesthetic features will surely amaze the person who will receive the gift.
Click Here to Check Pilot Vanishing Decimo on Amazon
Final Thoughts on Why Do Fountain Pens Leak at higher Altitude
Fountain pens are great and luxurious writing tool. However, because of its nature, it has a lot of flaws including ink leakage especially when exposed to high atmospheric pressure.
If you plan to carry a fountain pen with you on your long flight, just consider the safety cautions I shared above. It is highly likely that you'll encounter ink mess with your adorable fountain pen.
But with the right strategy, you can keep your fountain pen safe from leaking. I hope that this simple guide helps you take care of your fountain pen during a long flight.
Related Questions:
Why the passengers are advised to remove the ink from their pens while going up in an Aeroplane? Well, this is because the atmospheric pressure changes as the place reaches a higher altitude. When air pressure changes, the air will expand which in turn affects the ink inside the fountain pen. This often results in ink leaking.
Are fountain pens banned on airplanes? No. Fountain pens are allowed on a plane. You can carry your fountain pen and use it. However, you should always remember that fountain pens are leak-prone. Ballpoint pens are safer than fountain pens.  But I understand why most people love a fountain pen because it has more aesthetic features than ordinary ballpoint pens.
However, if you can replace a fountain pen with luxurious ballpoint pens, it will ease your worries during a long-distance flight. There are great ballpoint pens that offer excellent writing performance, ergonomics, and the ability to resist atmospheric pressure.
But if you don't want to replace your adorable fountain pen, just consider the tips I shared in this post to keep your fountain pen safe and functional during the plane flight.
To learn more about Fountain Pens, feel free to visit this page.