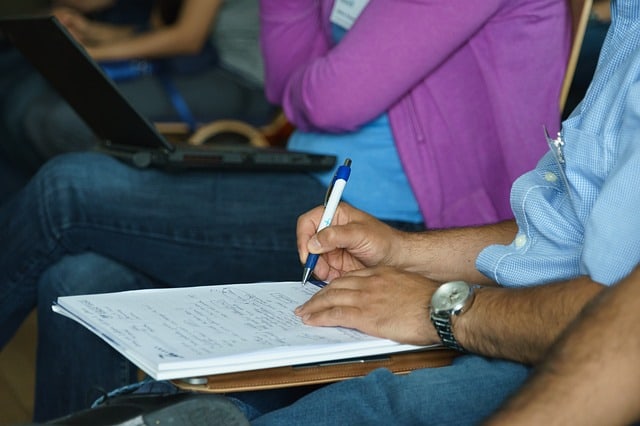 What is the best ball pen for students?
Despite the dominance of laptops and tablets today, ball pens still play a very important role in students' lives.
The majority of schools around the world still cling to the traditional type of school system. Students still write notes during their classes and answer the exams using pens.
Ball pens are still more comfortable to use in classes than computers. You can write faster using ball pen than typing on a computer.
Aside from these benefits, writing longhand is amazingly beneficial to the brain. Some neurological studies found that taking notes using ball pens boosts memory.
In fact, in one study, researchers found that taking notes during classes boosts memory retention compared to typing on a computer.
The reason behind this is that longhand writing initially encodes the information in the brain. This means that while writing, an initial neural connection is activated.
This process allows a person to study and retrieve the information faster. Such scientific fact is one of the reasons why students should use the traditional way of note-taking.
The only challenge when using a pen though is that pens may smudge or smear. No one wants to disturb during the fast-note taking. Smudges do ruin your focus which may result in incomplete notes.
The best thing you can do however is to find the best ball pen for students. Meaning that you should choose the best pens for long handwriting.
Having the best writing tool boosts your creativity, handwriting speed, focus, and productivity. But what are the criteria of good (best) ball pen?
Your ball pen should have some of the following features:
Good ergonomics
Easy to maneuver
Light and finger-friendly
With medium size barrel
Does not bleed
Fast-drying ink
Has a consistent ink flow
Smooth on any type of paper surface
Affordable
Your ball pen as a student should be accessible. This means that you can avail it even online. You don't need a luxury pen for your note-taking activities in class.
Here, we will help you figure out the best ball pen for students like you. We know that there are thousands of choices when it comes to pens. But on this list, we only included the best ones.
We make sure that the top five pens in this list are affordable, accessible, and writer-friendly. And most importantly, they are proven useful and effective in note-taking during classes.
1. Uni-ball Jetstream
When it comes to comfortability, the Uni-ball Jetstream is superior. It is easy to maneuver during fast-paced note-taking. It requires almost no effort to make the pen writes on the paper.
The advanced ink system allows the pen to make consistent markings thus helping the writer gain more focus. What makes this pen excellent in note-taking is its precise markings.
The ink does not smear leaving your writing nice and clean. Most students love this pen because it simply improves the aesthetic nature of their writing.
Salient Features:
Has a steady and consistent ink flow
With water-resistant ink
Superb smoothness
Safe to carry in high altitude flight
Does not bleed on paper or leak when storing
No acid content making it safe for archival document
Click here to read the owner's review on Amazon
2. Pilot G2 Retractable Premium Gel Ink
Sometimes, quick note-taking occupies most paper space. Then you suddenly notice that you have unknowingly filled the paper. When they're so much to add, you will most likely find difficulties in squeezing the tight spaces.
In this case, large-sized nibs do not work. You need a smaller nib-pen to be able to precisely write on the remaining tiny spaces.
The best pen that can handle this kind of situation is the Pilot G2 Retractable Premium Gel Ink. With this pen, you can maximize all the spaces in your notebook.
This pen also is known for its superb ergonomics. It is super comfortable to hold while writing. The fast-drying ink leaves your notes smudge-free.
Salient Features:
Comes in multiple colors
With consistent ink flow
Smooth on any type of paper
Has a long-lasting ink (last longer than other pen brands)
Great ergonomics that provide comfort to the writer
Has an elegant and superior writing performance
Leaves clear and precise writing
Click here to read the owner's review on Amazon
3. Zebra F-301 Retractable Ballpoint Pen
The third of this list is the Zebra F-301 Retractable Ballpoint Pen. One of the best features of this pen is its fine writing ability. The quick-drying and non-smudging ink are perfect for left-handed students.
With ordinary pens, writing fast to keep on track with a fast-talking teacher can be a mess. Most pens make extra and unnecessary markings on the note which in turn jeopardizes your note-taking pace.
Using Zebra F-303, such a problem is solved. This pen has a plastic grip that gives a writer lightness and easy maneuverability. If you want to have an excellent and manageable writing tool, you probably want to try this pen.
Salient Features:
Reliable
Durable
Non-smudging ink
Easy to control
Easily glides on paper
With consistent ink flow
Great ergonomics
Affordable
Click here to read the owner's review on Amazon
4. Pentel EnerGel Deluxe RTX
Note-taking sometimes requires multiple color pens to make some information to stand out from the rest. This happens especially when you try to emphasize something.
Making varied markings on your notes may be challenging if not difficult when you use one ink color. The solution is to use other pens.
In this situation, you can use high-quality pens that can actually do the job you want. The Pentel EnerGel Deluxe RTX Gel Ink Pen is what you need.
This pen has superb smoothness and fast-drying ink making your writing safe from any possible problem.
You can easily emphasize the information you want to highlight. This pen is designed not only for students but also for any type of writer.
Salient Features:
Provides superior writing experience
With fast-drying ink
Leaves no smudges
Perfect for left-handed users
Has a professional design
Great ergonomics
Creates great and precise lines
Easy to refill
Click here to read the owner's review on Amazon
5. BIC Round Stic
When it comes to affordability and quality, the BIC Round Stic Ball Pen is probably the best. In fact, it is one of the bestselling ball pens in the world today.
In most cases, being cheap means low quality. But the BIC Round Stic Ball Pen is an exception. It is cheap in price but high in writing performance quality.
If you are a student, this pen is a whole package. The smoothness, quick-drying ink, and superb ergonomics are combined in this pen.
This pen ensures your note-taking activity safe and lasts long. Unlike other cheap pens that bleed, this pen is durable and more reliable.
Salient Features:
Has longer ink life
Provides great comfort to the writer
Great ergonomics making it one of the easiest to use pens
Non-smudging ink
Super reliable
Consistent and smooth ink flow
Super affordable
Click here to read the owner's review on Amazon
One of these pens is the best ball pen for students. If you are looking for yours, you can consider our suggestions. We only included the best affordable pens for students. But aside from the cheapness, we make sure that quality is not compromised.
We hope that this post helps you find your writing tool in school. For more tips and suggestions, feel free to look around.