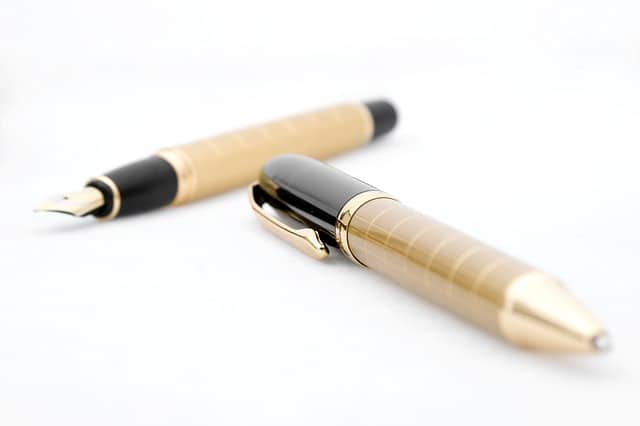 There is a psychology behind a person's writing. In fact, through graphology, you can read a person's personality by just looking at his writing. Your handwriting can reveal your inner world without you knowing it. Aside from that, writing is a mean of communication.
However, the effectiveness is determined by your writing style and the writing tool that you are using. Both could affect your writing. So, what are the best ballpoint pens for writing? Here, we will share with you the best writing tools including the ballpoint pen brands in India.
There are a thousand choices when it comes to finding the right writing tools. But choosing the best one can be harder than you think. The difficulty lies in the reality that every writing demand needs a specialized pen to carry out the task.
For example, if you are a student, you probably need a fine handwriting. That means you need a fine pen. But if you are a professional who deals with legal documents, you probably need a thicker nib-sized pen for signature. The criteria for choosing the bests pens vary from one writing demand to another.
With that being said, what you need to do before buying a ballpoint pen is taking into consideration your daily writing routine. Are you a student, a working professional, a lawyer, or simply a household person doing household chores? These demographic characteristics will determine the type of pens that will suit your writing needs.
In this list of classy pens, we included the ballpoint pen brands in India just to give you more options. We hope that this list will help you decide to buy a pen that fulfills your writing goal. So let's start knowing the following brands.
This brand was started in 1919 in Italy. Aurora is more than just the name of a high-quality pen. It has a lot of history in it. It was created by the finest Italian blacksmiths and goldsmiths. Aurora comes in different types of pens. You can simply choose the fountain pens, rollerball pens, ballpoint pens, and mechanical pens. Each type is created for certain specific writing demands. With quality and durability combined, there's nothing you could ask for more. You can order or buy this brand online.
The A.T Cross is an American made pen. The company was founded in 1846. For centuries, this pen never fails to deliver such a unique superior quality writing tool. This brand also comes with a variety of pens. You can choose from rollerball pens, ballpoint pen, fountain pen, gel pen, and mechanical pen. These pens are crafted for the specific writing job. With over 160 years of producing high-quality pens on the market, this brand boasts durable and iconic pens for different writing demands.
Another brand of excellent pen that is manufactured in the United States is the Parker. This brand was established in 1888. Although this pen is one of the oldest brands of pens, it is leading in terms of innovation. In fact, the Parker pens are now using the 5 TH technology. What this means is that the company never ceases to provide high quality and comfortable writing tools for users around the world. As a result, Parker pens belong to best and luxury writing pens in the world. This brand has several varieties including the Edge Rollerball, Calais, Chrome ball and Classic Century. In India, Parker is being promoted by well-known actors like Amitabh Bachan.
The Shanghai Hero is sold in India but its origin is China. The company was started in 1931. This Chinese brand of pens boasts both elegance and high-quality pens. But unlike other pens, this brand combines quality and affordability of its pens. This means that you can now have one of the best pens in the market for a lower price. The chic fountain pens are the most known writing tool produced by the Shanghai Hero.
If you are a student who is looking for the best pen for your writing, then the Papermate pens can be your best choice. The Papermate pens are designed to provide high-quality performance in daily use. This makes these pens perfect for household and school use. The options include the ballpoint pen, gel pen, pilot pen, and ink pens. With high quality and durability in hand, you can assure that your writing tool will not fail you in any writing demands.
If you are looking for a pen that provides comfort in all your writing jobs, the Sheaffer will satisfy such need. This brand is designed to give users optimal comfort with highly reliable writing performance. The ink does not smudge leaving your work clean and precise. The Sheaffer pens can be bought at a very affordable price. But low price does not mean low quality. This brand of pens is known to be one of the most reliable and durable pens on the market.
This brand is best known for its luxurious produced pens. Camlin was established in 1931 in Mumbai, India. And since then, the company had been producing high-quality pens for Indians. To ensure the quality of the pens, the company uses the German's ink technology that gives the pens the ability to perform well in any writing demands. This brand offers a variety of choices including the fountain pens, inks, pencils, and marker pens. These pens have one thing in common – the user's comfort.
Another one of the best ballpoint pen brands in India is the Reynolds. This company is based in the United States and is owned by Milton Reynolds. Unlike other high-quality pens in the market, the Reynolds pens are the combination of quality and affordable prices. This feature makes one of the top favorite pens of Indian masses. So if you think you can't afford a high-quality pen because of your tight budget, well, think again. The Reynolds pens can be your favorite too!
When it comes to the best ballpoint pen brands in India, we cannot discard the presence of Cello. This brand is India's largest manufacturer of high-quality pens. This brand has received several international awards for its manufactured ballpoint pens, gel pens, fountain pens, and rollerball pens.
This brand was established in 1906. The Mont Blanc is a German company which is known for its luxury pens being distributed in the market today. In terms of saleability, this brand is leading. Mont Blanc is the highest-selling luxury brand of pens in the world. These pens are a combination of elegance and sophistication that gives you a royal feeling.
Concluding remark
Although we introduced the best brands of pens in this article, the final verdict is yours. These ballpoint pen brands in India will only serve as a guide to help you decide. This is because every writing demand requires certain writing that could deliver the performance that you need. Once you figure out what you really need in your daily writing routine, it will be easier for you to pick one of these pens.
It is our hope that this simple list of ballpoint pen brands in India helps you in finding the best functional writing tool for your job.